Pilots need dashboards that show exactly what's going on with their planes - and what they need to do about it – in quick, concise steps. That's exactly what Foundry customers will have with the Foundry Platform's new user experience.
At the heart of the new interface is Foundry's use of data to plan work and capture workflow/data for assessing and responding to student work. Organized in a very intuitive and coherent way, the new interface is designed for teachers to work through the work students do with as few clicks as necessary. That allows teachers to quickly and easily prioritize their time to focus on the most important activities. The new interface was created through human-based design with Foundry customers.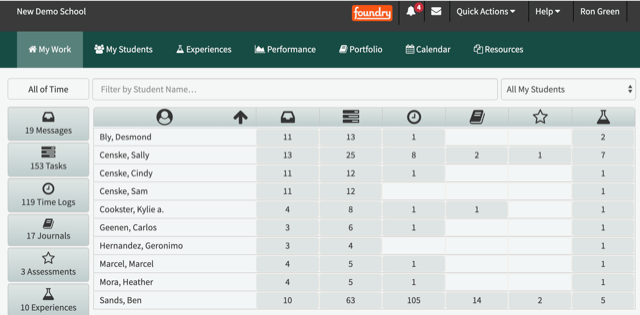 Efficiency and Effectiveness
The new digital workflow is designed to make teachers both efficient and effective. They can easily see where their group of students are, drill down, do their work in that space, and go right back to the dashboard without losing the workflow context. This level of productivity is important so teachers can spend their time being students' mentors rather than just managing the mountainous data that Deeper Learning can create.
The new interface helps Deeper Learning educators be responsive to students while letting teachers "power through" the work. The dashboard shows teachers how their students are progressing through the day, clearly identifying the specific items that require a response. For example, teachers can immediately see which students did end-of-day journals. With one click, they can see the list of journals, read through the ones that are priorities, and give immediate feedback. That is just one of many examples of user experience that teachers want to "in a blink" have the information they need and know what to do next.
The new interface is expected to be released in October. Foundry customers will be given the choice of staying with the prior UI for a few months or upgrading to the new UI so that users have enough time to adjust to the new user experience. Customers will be given advanced notice, and Foundry Customer Internal Champions will be invited to a detailed webinar before its October release.